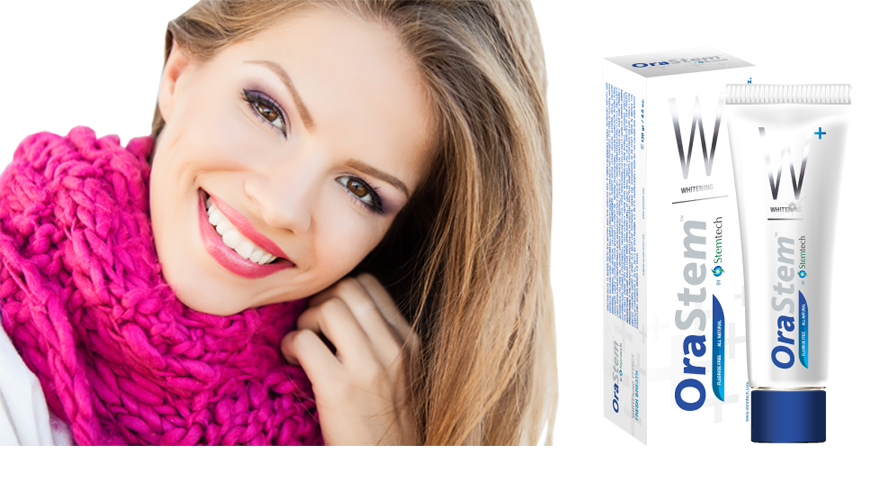 ORASTEM® TAKES YOUR ORAL HEALTH TO A NEW, HIGH LEVEL!
All-Natural. Innovative. Powerful.
The world's most advanced ALL-NATURAL toothpaste – OraStem® – brightens your smile and addresses your oral health in innovative and multidimensional ways. 

Unlike the majority of toothpastes, OraStem® protects, strengthens, rejuvenates, restores, and supports your teeth and gum function from the cellular level. In addition, it provides anti-oxidative and anti-microbial protection, supports your tooth strength with essential minerals, helps to gently remove stains, brightens your teeth in a natural and non-abrasive way, and freshens breath.  

OraStem® is composed of fourteen natural, non-GMO, and organic ingredients: powerful antioxidants, botanicals, herbal extracts, CoQ10, vitamins, and natural flavors. Their efficacy and safety for oral health have been supported by dozens of studies published in peer-reviewed journals. 

The innovative and synergistic combination of all-natural ingredients in OraStem® will keep your teeth and gums healthy and clean, and take your oral and overall health to a new high level!
Key Benefits:
• Innovative, research-based, and patent pending product
• Addresses oral health in a multidimensional way
• Implements natural, non-abrasive whitening technology
• Formulated with all-natural, organic, non-GMO, gluten-free ingredients and natural flavors
• Source of powerful antioxidants, botanicals, and minerals that support healthy teeth and gums
• Supports dental stem cell physiology in teeth and gums, contributing to periodontal and overall health
• Promotes fresh breath
• Free of fluoride, SLS, triclosan, other chemicals, bleaching agents, additives, preservative, colorants, artificial sweeteners, and sugar.
Get Stronger, Healthier Teeth and Gums,
and Brighten Your Smile with OraStem®!
Directions For Use
Apply at least a 1-inch strip of OraStem® onto a toothbrush. Brush your teeth at least two times daily, or as directed by your dentist. Rinse well after brushing.
Sign up for sales and PRODUCT NEWS!