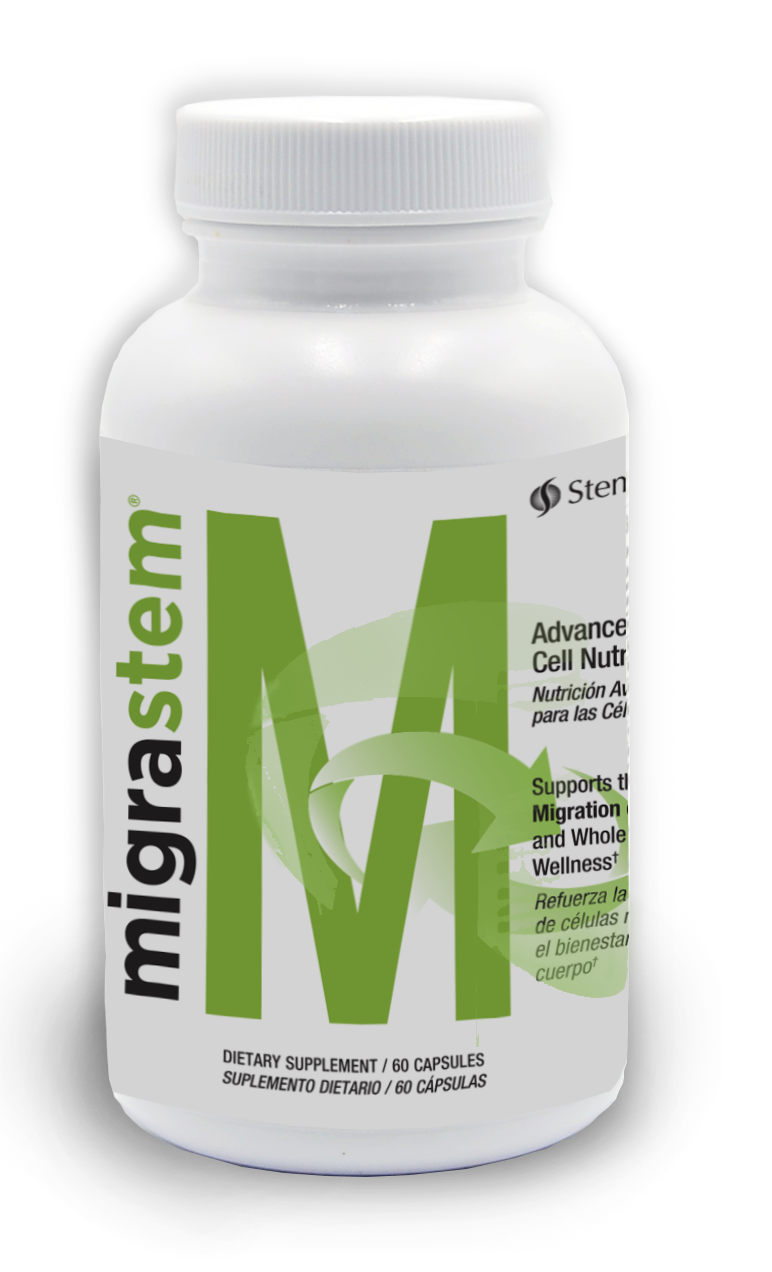 Migrastem® is the new path to body wellness and anti-aging. Created with revolutionary stem cell-supporting ingredients, this advanced supplement addresses health at the cellular and stem cell level, so your body can function at its best.
MigraStem is a natural source of potent antioxidants, phytonutrients, fiber, polysaccharides, and proteins. It contains extracts from superfoods clinically shown to optimize your body's natural defense, energy and anti-aging processes, and migration of healthy stem cells.†
KEY BENEFITS
Optimizes the migration of stem cells.†
Enhance the immune system performance.†
Support detoxification and anti-oxidative functions.†
Provide vitality, well-being and enhances a healthy longevity.†
THE POWER IN MIGRASTEM
These are some of the powerful ingredients in Migrastem:
Goji Juice Extract
Goji is one of the most powerful plants in herbal medicine and has been used in traditional Chinese and Tibetan medicine for more than 3,000 years. Goji berries are considered both a fruit and an herb. They are a rich source of powerful antioxidants, amino acids, polysaccharides, and proteins.
Reishi mushroom
With a composition of highly potent bioactive molecules, such as tripenoids, glycoproteins, polysaccharides, amino acids, and powerful minerals, Reishi mushrooms help support the immune system function and stem cell activity, offers strong antioxidant properties, and protects the liver.†
Maca
This ingredient is dense in nutrients and provides over 17 amino acids, powerful antioxidants, minerals, vitamins, and phytonutrients. Maca is widely used to boost the immune system, enhance stem cells activity, improve energy and stamina, and synchronize hormonal function. †
Bladderwrack
Bladderwrack provides multiple essential minerals and vitamins, antioxidants, polysaccharides, and other nutrients. They offer support for the immune system and stem cell function, natural tissue repair, and stimulation of antioxidant processes. †
Vitamins C and D
Both vitamins help to increase the effects of other active ingredients. Vitamin C supports the immune and cardiovascular systems and stimulates collagen regeneration and stem cells formation. Vitamin D is a mediator of calcium and phosphate balance to cellular differentiation and immune system support. †
For more about Migrastem® visit the Product Facts.
A Perfect Partnership:


Migrastem®, stemrelease3 and StemFlo®

MigraStem is an important part of daily stem cell nutrition, supporting the natural release of stem cells from the bone marrow, while StemFlo supports the healthy circulation of your body's own stem cells.† MigraStem and StemFlo are designed to perform synergistically with each other to provide you with extraordinary health and vitality.
†These statements have not been evaluated by the Food and Drug Administration.
These products are not intended to diagnose, treat, cure, or prevent any disease.
Sign up for sales and PRODUCT NEWS!